ROBERTSON ANNOUNCES NEW PARTNERSHIP WITH SHRM-MEMPHIS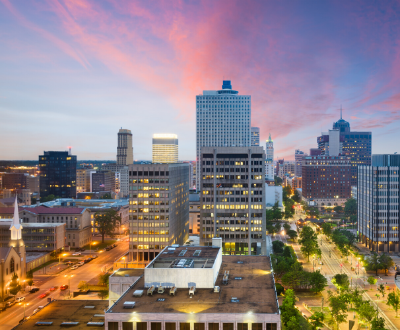 First Priority, Getting Women Who Have Been Out of the Workforce to Return
February 9, 2021 – Greater Memphis Chamber President & CEO, Beverly Robertson, announced today that the Chamber has formed a new partnership with the Society for Human Resource Management (SHRM)-Memphis Chapter. While the partnership will focus on bringing new hiring and training practices to the Memphis market, the first joint venture will pursue opportunities for women who have been out of the workforce for various reasons and now ready to return. The Chamber and SHRM-Memphis will connect qualified candidates with potential employers and training programs if needed. Robertson announced this new partnership today at the National Association of Women Business Owner's – Memphis Chapter's monthly luncheon.
"I am excited about this partnership. Memphis is sometimes undervalued by employers because they do not realize the talent we have here. SHRM-Memphis and the Chamber have another exciting opportunity to drive the growth of Memphis and its people," said Brad Federman, CEO for PerformancePoint, LLC and serves as VP of Workforce on the SHRM-Memphis Board.
Greater Memphis Chamber Senior Vice President of Workforce, Ernest Strickland added, "In order to compete with peer markets on talent, workforce organizations have to collaborate in order to amplify the voices of talented and skilled job seekers. The partnership with SHRM-Memphis will pay dividends to our employers, job seekers and the community for years to come."
In the Memphis marketplace, females comprise approximately 50.3% of the civilian labor force here in the Memphis MSA with 65% estimated to be between the ages of 25 to 54 with a 6.1% unemployment rate. This Opportunity Population has been identified as withdrawn from the workforce for variety of reasons, including to raise children, care for elderly parents, or to pursue other opportunities. The Chamber and SHRM-Memphis are working to identify these women through church-settings, area non-profits and other networks.
Companies interested in partnering with the Chamber and SHRM-Memphis and women who are interested in learning more about this program are encouraged to contact Sondra Howell, who serves as Vice President of Talent Innovation for the Chamber. Howell can be reached at 901-543-3531 or showell@memphischamber.com.